Drain and Sewer Repair & Service for your New Jersey or Pennsylvania Area Home
Every day, Gold Medal delivers the highest quality Drain Cleaning service to homeowners in New Jersey.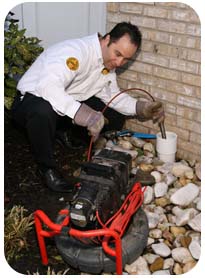 If you are dealing with a slow running, clogged or damaged drain, we will respond to your needs in a swift, efficient and friendly manner. We promise to get the job done right the first time and we promise to respect your property as if it were our own. These principles are applied to all of our drain and sewer services.
We not only manage all of your drain cleaning and sewer needs but we offer you brand new innovative ways to maintain your property the best way possible:
Drain and sewer cleaning services
Video pipeline inspection
Sewer line repair and replacement
Trenchless sewer line repair
Our technicians adhere to the highest standards of excellence, from video camera inspections to replacing a bad sewer line and clearing a simple clogged drain.
Gold Medal is the name customers think of first. We guarantee excellent workmanship and customer service from each technician and Gold Medal employee.
Don't deal with clogged drains or toilets that always back up, let Gold Medal keep things running smooth for your homes drain systems!
If you do not see a service you are interested in please call, we will gladly answer any questions or offer support in finding the right person.
Have an emergency? We can handle it! 24/7/365 service at no extra cost to you! That's why customers turn to us when in need for any of these services.

TIP: Old homes and new landscaping may sometimes pose problems for your sewage and drain system. If you recently moved into a preexisting home, you should take time to find our where your sewage line is and then take a look at the trees around it. Trees added after a line was installed or larger trees that were planted in an area with limited room to grow will become issues. Prevent unruly roots from turning into your plumbing predicament by calling us today for your consultation!

CALL 877.287.8282 | 24/7 GOLD MEDAL SERVICE