Gold Medal Service – We are Your New Jersey & Pennsylvania area Home Electrical Experts
Gold Medal Service fixes all electrical problems and can upgrade any electrical components. We are New Jersey and Pennsylvania area home electrical experts.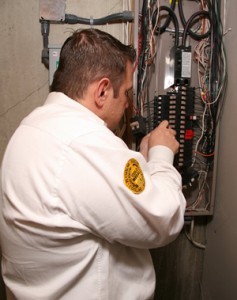 Gold Medal employs and trains the most experienced electrical technicians in the area. Every day, Gold Medal delivers the highest quality electrical service to homeowners in New Jersey and Pennsylvania. No matter how big or small the job is, we will respond to our customer needs with Award Winning Service.
Our technicians adhere to the highest standards of excellence, whether it is a simple fan installation, or wiring a swimming pool. Gold Medal is the name customers think of first.
We guarantee excellent workmanship and customer service from each technician and Gold Medal employee.
Our electrical services include:
Aluminum wire repair/replacement
Appliance hook-ups
Attic & exhaust fans
Back-up home generator systems
Backup power supply
Capacity upgrades
Ceiling fans
Circuits and transformers
Computer & TV wiring
Electric design and construction
Energy efficiency systems
Electric heat
Energy retrofits
Fixtures
Fuse to breaker change outs
Historic renovations
Home automation
Hot tubs
Indoor/outdoor lighting
Lighting
Main power
Meter base repair
Outdoor lighting
Outlets, switches, and lighting
Overhead and underground electrical specialties
Power wiring
Ranges and dryers
Remodeling
Rewire
Security lighting
Security systems
Service pole
Service upgrades
Surge & lightning protection
Swimming pool wiring
Trenching services
Upgrades
Video surveillance
Wiring & repair work
If you do not see a service you are interested in please call, we will gladly answer any questions or offer support in finding the right person.
Have an emergency? We can handle it! 24/7/365 service at no extra cost to you! That's why customers turn to us when in need for any of these services.

TIP: Have you inspected the electrical wiring in your home lately? If the answer is no or never, then you may be at risk for an electrical fire. Some of the most common causes of fire in the home are entirely preventable. Check to make sure that your circuits are not overloaded and that you have Ground Fault Circuit Interrupters (GFCI's) installed around any outlets near water. The label behind the door to your electrical panel should give you an idea if an electrical inspection has taken place anytime recently. If it's been too long, call Gold Medal Service today!

CALL 877.287.8282 | 24/7 GOLD MEDAL SERVICE