Our service guarantee means you and your home will be treated with respect.
We stand behind all our Plumbing, Heating, Cooling, Electric, Drain Cleaning, and Kitchen and Bathroom Renovation Services.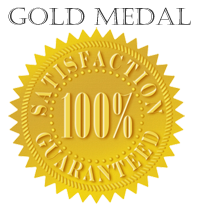 We value your time. Our call center is open 24 hours a day, 7 days a week and when you call, you will always speak to a live person. Our experienced customer service representatives will schedule an appointment that is convenient for you. Before our technician arrives at the appointed time, we will give you a call so you don't have to waste your valuable time waiting or worrying.
We value your safety. Our technician will arrive in a Gold Medal truck wearing a Gold Medal uniform. All of our technicians carry identification cards and you can ask to see it before letting him in your house. Gold Medal is fully licensed and insured for your safety and protection.
We value your home. Our technicians use shoe covers and carpets to protect your home. They make sure they leave your home's interior in the same condition it was in before they arrived.
We value your satisfaction. Before any work is performed, our technician will explain all the options available and get your approval to start work. After the work has been completed, our technician will summarize what was done and make sure you are satisfied with the work.
Our written guarantee means we stand behind all of our
Plumbing Services
Heating Services
Cooling Services
Electric Services
Drain Cleaning Services
Kitchen and Bathroom Renovation Services
Our Staff's Professionalism
All parts and products
we use
Our Technicians' Workmanship

We use the best products available in the market and provide an ongoing training and development program for our technicians to keep them up to date with new market developments. That means you get the most knowledgeable technicians in the business and the most efficient products available.