The rapid growth in technology and advances and improvements in electrical equipment are placing an increasing burden on the electrical circuits in homes, especially those built more than ten years ago. If you are dependent on electronics and electrical equipment, or are increasing your collection, you might want to consider main service panel upgrades – and repairs it if it is damaged.
What is a main circuit panel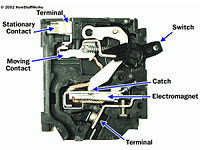 The main circuit panel is where electricity enters your home from the municipal power grid. When it reaches the panel, it is disseminated and distributed to the different areas of your home through branch circuits. The connections to the branch circuits are made with circuit breakers, which are safety devices designed to disconnect the electricity to a branch circuit in the event of a malfunction. Poorly configured or damaged main service panels are safety and fire hazards, and they need to be repaired or upgraded.
What upgrading the main panel entails
Upgrading the main service panel is not a difficult or expensive problem, but it is not a home handyman job, it requires professional skills. Our trained and certified technicians will come to your home and, in a short time, they can add more circuits and outlets to your home's system. In addition, the technicians will make sure the current circuits are properly rated for the amperage they are pulling; preventing circuit overloads and tripping of breakers.
Advantages to upgrading your main circuit panel
When you have the main panel upgraded, it allows you to:
Add more outlets and circuits
Reduce overloaded breakers that are always being thrown
Eliminate overcrowded outlets (a fire hazard)
Increase the ability to add large appliances
Increase the availability of power so you can have it when you need it, where you need it
In addition, if you are remodeling or renovating your home, local codes will require an upgrade to accommodate these changes.
Repairing the main panel
Unless you are a licensed electrician, it is doubtful that you can look at your main circuit panel and see any problems. If you are beginning to experience problems with your wiring, or you have an old main panel, you should call Gold Medal for an inspection of your system, and have needed repairs made.
Why make repairs?
If your main circuit panel is outdated, showing signs of wear or you are having problems with your fixtures or outlets, inspection and repair of the circuit panel will:
Prevent shocks
Prevent fires
Prevent death
Eliminate service interruptions
Help you meet homeowner's insurance requirements
At Gold Medal, we have fully licensed and certified electricians who are ready to serve you. Our main service panel upgrades and repair includes all the parts, materials and labor necessary to complete the project. In addition, we stand behind our work and the quality of our parts.