Plumbing Repair, Replacement and Installation for your New Jersey or Pennsylvania home
Every day, Gold Medal delivers the highest quality Plumbing service to homeowners in New Jersey and Pennsylvania.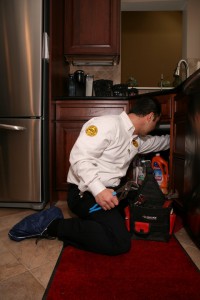 At Gold Medal we take the utmost care to keep your home in pristine condition. Our technicians come on time and prepared to keep these standards with shoe covers and drop cloths for any job. Gold Medal is a company which cares about providing you with qualified, certified technicians. Every technician must pass a rigorous background check including drug testing as well as meticulous aptitude testing. We offer our technicians classes to enhance these standards. Perhaps most importantly, we pride ourselves on fixing your problems correctly the first time.
From a leaky or dripping faucet to a clogged toilet, slow running drain, or any other plumbing related problem, Gold Medal technicians will fix the problem quickly and give you a 100% satisfaction guarantee.
Our thoroughly trained technicians abide by the safest and most outstanding standards of excellence. Whether your concern is a minor faucet leak, a major pipe burst, or a new fixture installation, Gold Medal is ranks #1 with customers throughout New Jersey and Pennsylvania. We guarantee you phenomenal workmanship with stupendous customer service.
Listed below is just a sampling of our extensive list of plumbing services:
Kitchen plumbing repairs/installations
Bathroom plumbing repairs/installations
Plumbing fixture installations
Gas and water line repairs/installations
Sump and ejector pump repairs/installations
Backflow prevention
Disposals
If you do not see a service you are interested in please call, we will gladly answer any questions or offer support in finding the right person.
Have an emergency? We can handle it! 24/7/365 service at no extra cost to you! That's why customers turn to us when in need for any of these services.

TIP: Don't allow your pipes to freeze! Pipes can crack and burst after they become frozen during cold East Coast winters. We see plenty of problems within the areas we service that could have been prevented with a little bit of plumbing maintenance. Gold Medal Service suggests turning off your indoor cut-off valve and turning on your outdoor faucet when the temperature starts to dip below 32 degrees Fahrenheit. If you're unsure about what a cut-off valve is or where yours is, call Gold Medal Service today for a consultation or installation.

CALL 877.287.8282 | 24/7 GOLD MEDAL SERVICE